(this article originally appeared on adamfayed.com)
After speaking about some of the cheapest places to live as an expat, this article will focus on expat cost of living in Thailand.
Of course, we can't speak about every city in Thailand in this article, and the costs are subject to change due to inflation and exchange rate changes.
For any questions, or if you are looking to invest as an expat, you can contact me using this form.
Introduction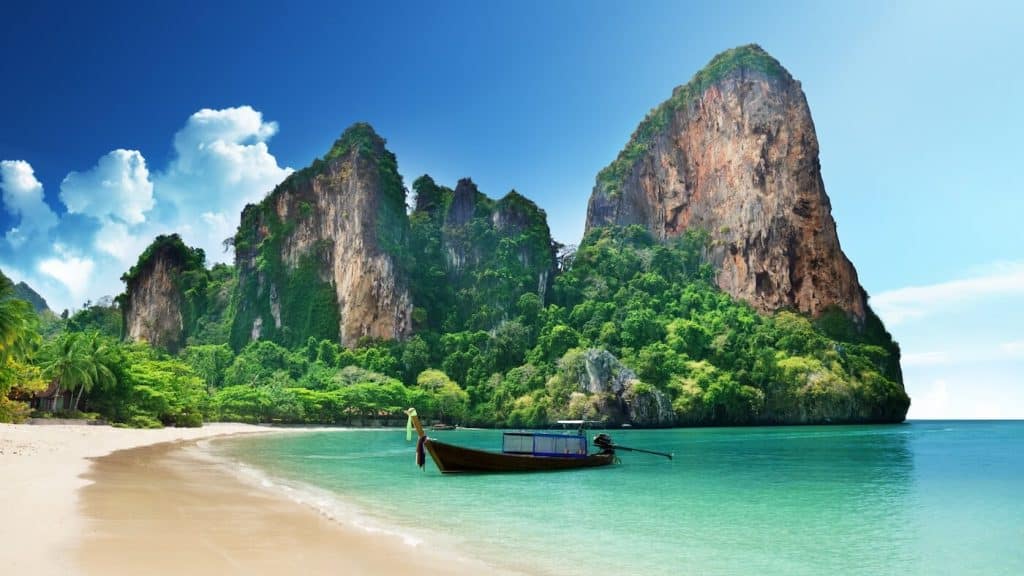 Thailand is considered one of the most beautiful and fascinating Asian countries.
This exotic country is very popular with tourists and expats. Beautiful beaches allow you to relax, sunbathe, diving and more. Eternal summer, velvet beaches and a warm ocean will be able to leave a sea of ​​positive emotions about themselves. I want to come back here again and again.
The popularity of Thailand is promoted by affordable prices for accommodation, excellent service, both in hotels and in other public institutions, varied, and most importantly inexpensive shopping.
Living in Thailand has a lot of advantages compared to other European countries.
All taxes, including utilities, are distinguished by a low cost, which attracts people, investors who move here to live.
If we talk about food, then in Thailand it is inexpensive. In the most expensive restaurant, which is located on the roof of a skyscraper overlooking Bangkok, you can dine for only one hundred and sixty-seven dollars.
And if you take an inexpensive cafe, the dinner there will cost from fifty to eighty cents. Take averages for dinners in a restaurant, and then they will tighten by twenty-five to twenty-seven dollars, even in an ordinary cafe – one dollar and fifty cents.
By the way, Thailand has a very tasty cuisine that attracts tourists. The most interesting thing is that not only dinners are inexpensive, but also the products themselves. You can spend as little as twenty dollars a week, but allow yourself to buy delicious fish, good meat and lots of fruits and vegetables.
Inexpensive prices in Thailand will always attract travelers and expats, especially the transport and other services are really cheap here.
For example, if you take a taxi that will travel through the entire capital, it will cost you only six dollars. And all this taking into account the fact that living in Bangkok is considered the most expensive in the whole country.
Gasoline in this country costs car owners thirty-five cents. For lovers of a fitness club, an annual subscription, which includes a sauna, exercise equipment and a pool, will cost three hundred dollars.
Property prices in Thailand are quite low, the annual maintenance fee is only one hundred dollars, which includes security, cleaning, garbage collection, pool maintenance and more.
Buying an apartment, villa, or something else in Thailand, you can do whatever you want with it. Usually such real estate is rented, the price for which is one hundred fifty – three hundred dollars.
It all depends on the season, location and living conditions. In short, Thailand is a very beautiful country. It attracts the attention of many investors who make profitable investments.
Living standards are high here, but prices for accommodation, food and shopping are very low.
Therefore, today, many people prefer life in Thailand. Recently, life in Thailand has attracted more and more people. Having visited this country at least once, many people think about making it their permanent place of residence.
Many residents of Russia and Ukraine want to go to live in Thailand.
*Regions of Thailand: metropolis or islands
Moving to Thailand is usually associated with life on the islands, by the sea. But island life is slow and relaxed. This does not suit everyone.
The islands are less likely to be employed. And even if you have a remote job or business, it is not a fact that you will be able to work effectively in such a "resort" rhythm.
If you are used to the urban pace or want to find work locally, choose a metropolis. In the same Bangkok, there are about 7 million people.
It has everything: houses on stilts above the canals and modern townhouse complexes, nomad boats and impressive skyscrapers, temples, bazaars and shopping malls.
Accommodation in Bangkok can be rented even for $ 80 per month. It will be a small apartment with private facilities, sometimes with a balcony and air conditioning.
However, there are also apartments for about $ 2000 – two-level, in an elite area, in a modern residential complex with a swimming pool and a gardener. The studio costs from $ 700 there.
There are, of course, more expensive options. It's better to focus on the cost of housing from $ 300 per month, about the same amount plan for utilities.
In Thailand, electricity is expensive and air conditioning consumes a lot of it. In the mentioned duplex apartment, the fees are approximately $ 320 a month for electricity only.
*Food in Thailand is not just Thai
There is a stereotype that food in Thailand is very cheap. The truth is, not all. The Thais themselves eat in small cafes, which will seem unsightly to a European.
But locals say that the tables and dishes are always clean and the food is freshest and really cheap.
Middle class Thais often eat in cafes and restaurants, order food with them. It's cheaper and more convenient than cooking something by yourself.
The average bill in an inexpensive establishment is about $ 5-10. People having less financial opportunities buy food from the markets and it turns out really cheap. The basis of the nutrition is rice, vegetables and fruits. But groceries in supermarkets are often more expensive.
Thailand has a developed street food culture, lots of chicken and meat, mostly fried and very fatty.
However, they also sell fruits and fresh juices there. It's not expensive. A mango from a Thai market or street stall definitely cannot be compared to a mango's price from your local supermarket.
*Working in Bangkok: who can move there?
To work in Thailand, you need a special visa marked work permit. Some manage to live there on a tourist or student visa, but officially it is impossible to work with such – they can be deported.
Thailand has a list of professions that are legally prohibited for foreigners. For example, work as a guide or profession in the beauty industry. This law is an attempt to protect the rights of local residents.
However, legislation does not always correspond to the needs of the market.
For example, travel agencies do not have enough Russian or English-speaking guides, so the company can arrange you as an interpreter for the guide, although in fact you will lead the excursions yourself.
You can take a chance, but I advise you to study the laws in advance and immediately figure out what such a violation of the rules is fraught with. Ideally, you should consult with a lawyer.
In Bangkok, qualified engineers and IT specialists are in demand, with such professions you can easily find a job. Contrary to stereotypes, Thailand does not earn much on tourism, significant items of income are assembly of cars and gadgets, agriculture.
There are also many small entrepreneurs in the country. Usually they do something with their own hands and sell it on the ground floor of a house ("shophouse") or in large bazaars. But for most of these trades, the foreigner will not receive a permit.
Thailand is always looking for certified English teachers. Not many people know him. Russian has recently become more popular, and knowledge of Chinese is also useful. China invests a lot in the Thai economy, business contacts are being established between the countries, and it has a large Chinese diaspora.
*How do you do everything smartly?
The main thing to do is to create sources of income for yourself or find a remote job. It is better to first get a job in your city, work for several months, understand whether such a free regime suits you, show your bosses that you can work remotely no worse than in an office.
It is also worth considering that not everyone can work as remote workers and not everyone can properly organize their workplace and not fall out of rhythm, succumbing to a measured life by the sea.
The next step that you need to take in parallel with your job search is to study as much information as possible about Thailand. Explore forums, blogs, and communities in social networks on your own, communicate with people who have already moved to Thailand to live.
It is also important to choose the direction where you would like to move for a permanent residence. Try not to miscalculate as much as possible, to study all the nuances of life in the chosen city.
Most of those who have already moved to Thailand for permanent residence have chosen Pattaya City. Whoever said anything about this city, but it is really convenient for life in many ways, including life with a child. Many also move to Phuket and Bangkok for permanent residence.
*The illusion of a convenient and inexpensive visa regime
Getting a Thai visa for the first time is very easy, but each subsequent trip for a visa is a lottery, the more Thai visas and stamps in the passport, the higher the risk.
You can get a red stamp on your visa, you can be interrogated at the border, you can demand to show your money.
They may not even allow you to enter the country, even if you have a visa.
For some people, a student visa for 1 year is a suitable option. And many live on tourist for 3 months. What's wrong with a student visa:
First, you are tied to one city. If you made this visa somewhere in Chiang Mai, you will have to spend the whole year there. It will only work for short trips of 3-5 days.
Secondly, not everyone can buy such expensive visas. So you have to wander every 3 months and make yourself a visa in Laos, in Kuala Lumpur and pay for a visa extension after 2 months.
At first glance, this seems very interesting. Thanks to such trips, you can be in Laos and Cambodia. But will have to spend over 22,000 baht (approximately $700) on visas only for the first six months in Thailand. Do people call this a convenient and inexpensive visa regime?
When considering a student visa for a year, you will have to pay even more, minimum payment of 30 thousand baht (about $960) for each person. And if you are with an adult child, then calculate yourself.
*Bangkok in numbers: how much does it cost to move there?
Let's calculate how much it will cost to move to Thailand. For example, let's take Bangkok, in other regions prices for housing and partially for food may differ.
Flight: the cost of tickets varies depending on the season, time of year, promotions – from UAH 4000 to UAH 20,000.
Visa: Visa upon arrival is valid for 15 days only; single entry visa for 60 days costs $ 80, multivisa – $ 250. A long-term visa (type B) will cost about $ 1000 per year (in several payments). A visa with a work permit must be agreed in advance with the inviting company.
Apartment rent: from $ 80, average price – $ 300. For $ 200-250, you can rent a 1-room apartment with furniture, air conditioning, internet and other amenities, plus about the same for utilities.
Meals (for one person): if there is 3 times a day in a cafe for locals – about $ 300 per month.
Transport: terrestrial metro – from $ 0.5 to $ 1.7; boat – about $ 25 per hour; tuk-tuk – from $ 0.5. If you take a regular taxi, make sure the driver turns on the taximeter. And do not negotiate a fixed amount, it will be twice expensive.
Salaries: the average salary in the country is about $ 400; an English teacher can earn $ 600, an engineer or programmer – $ 1000-3000 and more.
*About safety in the country
How unsafe all over the world, terrorism, theft, scammers, attacks, in Thailand the situation is not very different. There is no absolute security here, which is not surprising in principle.
Abroad, and especially in Asia, you have no rights. Here you can also be robbed and you will be very lucky if the thief is found and compensated for the damage.
We are citizens of planet Earth. But the thought that we are not at home and that we are here on the rights of a fly is always present. In the event of any conflict, the Thais will defend the Thais and trick the white tourist for money.
Have you been cheated? Was something stolen? Or worse, did you get into a fight with the Thai? There is no one to complain to.
The police will take even more money from you. It can even go to jail! Observe precautions, do not particularly spread about yourself and your life, do not borrow money and be on your guard.
Remember that cute smiles don't always have a good idea behind them. If they smile at you, this does not mean that you are respected and you are infinitely welcome. Do not rejoice at the beautiful word – farang. First of all, you are a bag of money for them, a walking ATM, especially for people involved in tourism.
*Features of culture and mentality
Thais are incredibly kind and smiling people. Most believers, the main religion is Thai Buddhism. This imposes certain features on behavior. For example, the people of Thailand believe in reincarnation, so they strive to do good deeds that will be credited to them in their next life.
In Thai society, it is believed that a person should always be calm and smiling.
It's good form to apologize, even if you're right. But raising your voice and aggression are considered incredibly rude. Moreover, both parties to the conflict "lose face" at once.
A poor Thai can easily throw garbage into the river, not realizing that this river flows into the ocean, which then feeds the whole country with fish.
But Thailand is developing. New enterprises are being opened, skyscrapers are being built. With all this, the Thais manage to maintain authenticity and peace. It is an open and positive nation. Thailand definitely deserves the title of the Land of Smiles.
*Life in Thailand the benefits
Before choosing a country in which you would like to live your life, you need to consider other countries.
After all, you choose your home, your refuge. Such a radical change in life should not be neglected. Thailand is one of the best places to move permanently, but it's not for everyone.
You should first come to live here for at least six months and even then think about the idea of ​​moving.
Maybe you will like Indonesia with its crazy beauty of rice fields, or Philippines, Vietnam, Cambodia. There are a lot of options. Thailand will not run away from you.
On the other hand, the government tries to tighten visa regimes every year. Otherwise, what will the kingdom turn into in 5 years with such flows of tourists, guest workers, backpackers, travelers and expats?
Life in Thailand for permanent residence may not be as good and carefree as people think at first glance. Of course, living in Tae is better than in Burma, Laos or Cambodia. But do not forget that in some countries you may be even better off than in Tae.
To begin with, live in the country for at least a couple of months, and preferably six months. Before leaving everything and moving to Thailand for permanent residence.
Final thoughts: Pros and cons of living in Thailand
Pros:
Climate and nature – there is an eternal summer, and the presence of the ocean is a good bonus.
An atmosphere of benevolence – whoever says anything about smiles, but you will always get a smile in return from Thai people.
Thai food and fruits – if you are tired of your traditional cuisine, here in Thailand the tropical fruits will never make you bored.
Cheapness and simplicity – in Thailand you can get a higher standard of living for the same cost. And also here it is simply captivating how easily and quickly the issues of housing, food or movement are solved, and not so much because of the cheapness, but because the whole country is tailored to visitors. And this is definitely sometimes lacking in other places.
Cons:
Heat and Wetness – Thailand is really hot and this factor is worth considering. If a temperature of 30 degrees and above is already too much for you, then you will not be able to sit under a palm tree with a laptop, you will have to look for air conditioners everywhere and everywhere.
Internet – The Internet is worse here than somewhere in the forest. True, every year it gets better – the speed and stability are growing. It's great for surfing, blogging and others like them, but for those who care about fractions of a second (for example, for online poker players), not every channel is suitable. The issue can be resolved by having a separate optical line for you and not using a shared Wi-Fi, because the common Internet is divided into everyone, and when people start downloading massively, even surfing can be problematic. Its own channel is usually in houses, and in some apartments. With 4G, everything is great, and the speed and coverage are excellent.
Communication – You will have to communicate in broken English in shops, with taxi drivers and just on the street. The less resort place, the more broken the language will be, and the more you will be misunderstood. Can you constantly in a language other than your native language?
Work, business and idleness – Those who want to work are not particularly expected there: there are many forbidden professions, prison for illegal work, bribes and corruption, there are many pitfalls with business and it is desirable to have connections. Therefore, there the majority works remotely: all sorts of programmers, bloggers, site owners, SEOs, copywriters, designers, etc. But there is also a small part of the visitors who have officially settled down. Someone in real estate, someone in tourism, and someone is programming. In general, if you have a good skill, then you can find an official job here, although it is not entirely easy. In general, if you want to mess around, it's not a fact that it will work out.